Imagination, the Only Limitation
Balanced design, easy to wear
The balanced design means that the weight of the PICO 4 is evenly distributed to the front and the rear.
The centre of gravity fits snugly up against the face. The rear has a cushioned support.
The result is a superbly comfortable fit. The front does not sway to and fro and the rear does not slip downwards. It is highly stable.
The weight of the front end has been reduced by
26.2%
and its thickness reduced by 38.8%.
At the rear there is a high capacity
5300mAh
battery.
No matter how long you wear it, you'll be able to play non-stop.
The Proprietary Pancake optical lens allows for a wider, clearer view
The Pancake optical lens has made the PICO 4 lighter and, because it refracts and reflects light between lenses, means the PICO 4 has both a wider field of view and clearer images.
4K+ Super-Vision Display
The PICO 4 is equipped with two 2.56-inch Fast-LCD screens that can achieve a refresh rate as high as 90Hz.
As well as resolution in excess of 2K per eye, plus a PPI performance of up to 1200. Images in VR must be completely vivid and life-like.
105° ultra-wide field of view means superb images can be seen in full view.
Motorized Inter-pupillary Distance Adjustment
PICO 4 supports 62-72MM inter-pupillary distance adjustment with precision via settings menu.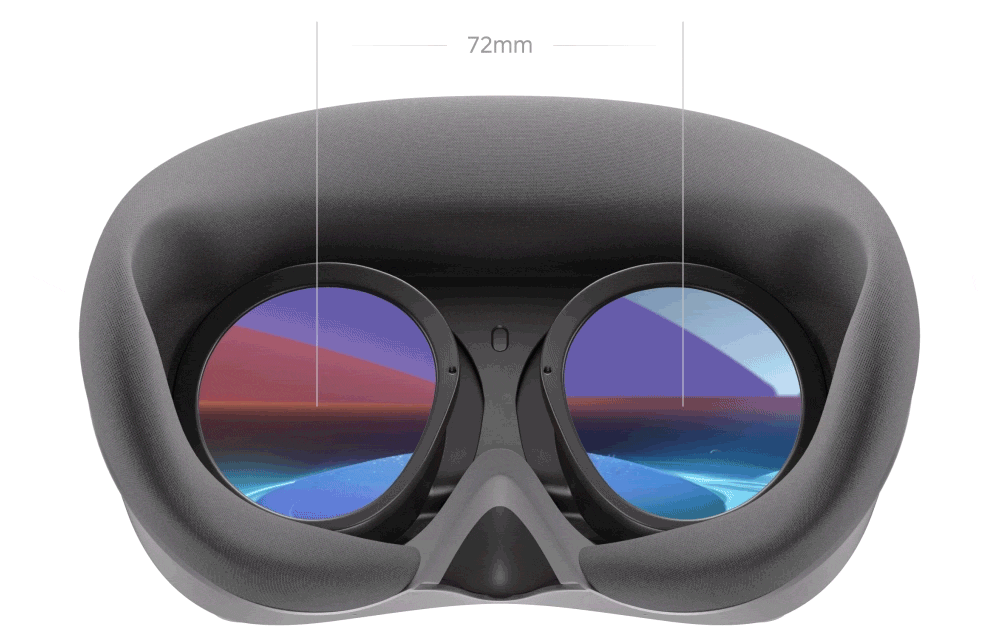 6DoF spatial positioning for heightened VR experience
Sub-millimetre positioning accuracy
Millisecond tracking speed
With proprietary omni-directional SLAM, infrared optical positioning system and upgraded optical sensors, the PICO 4 offers improved tracking and positioning for the headset and controllers, making every VR movement swift and decisive.
Colour See Through has arrived.
While wearing the PICO 4, it only takes one simple click to deal with any 'interference' from the real world.
There are even more MR apps to look forward to.
Stay active with all-new VR gaming
CalSense Physical Fitness Monitoring
The PICO OS 5.0 Sports Centre integrates the proprietary CalSense physical fitness monitoring algorithm, which calculates calorie consumption as you exercise, in real time. You will not sweat in vain.
Rich sports management functions such as data statistics, weekly plans and friends PK are all available.
HyperSense vibration controllers
More sports and fitness APPs for you to choose from
Personal training sessions, boxing, table tennis, tennis, badminton, bowling, fishing…For a fun, fat-burning workout, anytime, anywhere.
Rediscover You VR Sports Kit
VR concerts, 6DoF interactive films, live ball games, PICO VR theatre, live interest, dynamic comics ...
The entertainment never stops with PICO Video.
4K+ resolution, 105 degrees panoramic view, and 90Hz Flash-LCD display. Brace yourself for a home theatre visual feast.
Spatial Audio
The binaural stereo speakers are equipped with sound field reconstruction technology.
The sound positioning is calculated from head motion data, resulting in a precise spatial audio effect.
Multi-player Cinema
Invite your PICO friends to a multi-player cinema for blockbusters and live shows. Enjoy real-time voice chat and interactions with virtual avatars.
Worlds apart, right beside you.
Where you need it, when you need it.
PICO OS 5.0 supports real-time contact with online friends.
You can also share your VR perspective to personal TikToks with one click.
MRC recording
Allows you to record and share your point of view in the virtual world with close friends.
Screencast to your phone, tablet, computer, TV… even including Chrome browsers.
Find your favourite games in the PICO VR Store